CBGA In The Cardiovascular System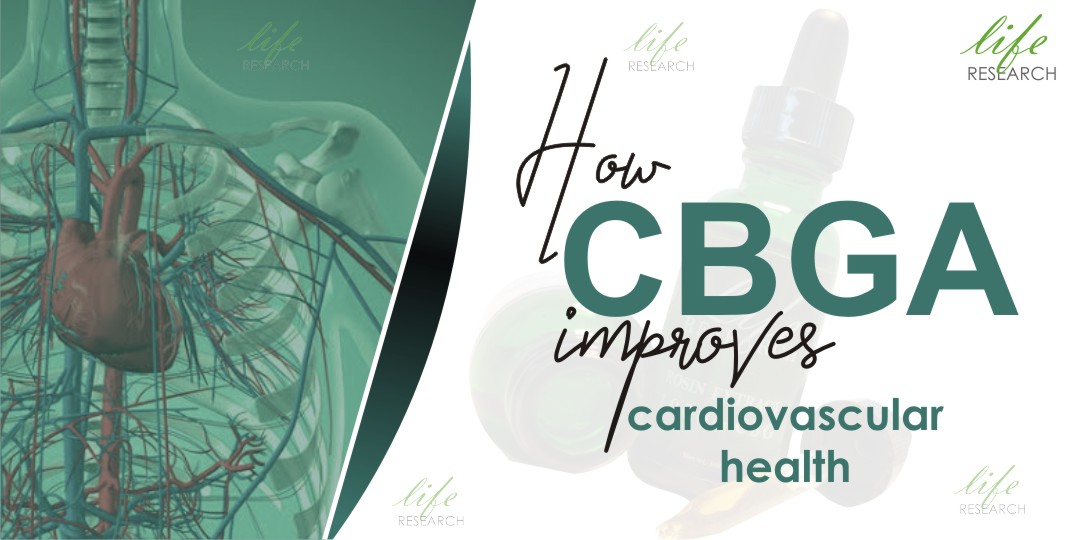 Is cannabis safe for the cardiovascular system?
The science behind the health benefits of cannabis continues to grow more robust. Still, people remain skeptical about its effects on the cardiovascular and respiratory systems. Smoking marijuana does pose some cardiovascular risk, but no one needs to smoke mind-altering THC to experience the medicinal benefits of cannabis.
In fact research shows that cannabinoids like CBGA, CBD, THC, and CBG improve cardiovascular health and alleviate cardiovascular symptoms.
Information from the WHO shows that cardiovascular diseases are responsible for over 17.9 million deaths recorded globally thus, making it one of the leading causes of death. The fatality of the disease involves malfunctioning blood vessels and organs actively involved in the circulatory system. Cardiovascular diseases are age-related, with more severe symptoms appearing in seniors (people above 70 years). Bad diet, a sedentary lifestyle, tobacco, and excessive alcohol use increase the risk of cardiovascular disease.
So how exactly can cannabis help?
Research is ongoing, but there's promise in CBGA. Studies on the endocannabinoid system seem to indicate CBGA's potential to improve cardiovascular health by reducing hypertension and through its antioxidant properties.
Antihypertensive properties may reduce blood pressure. 
The antihypertensive nature of CBGA may be linked to the antidiabetic potential of the compound. CBGA is highly effective at reducing the effect of diabetes and other digestive disorders, thus suggesting a possible use case for lowering blood pressure. Note that hypertension is a major contributing factor to the fatality of diabetes. Information from WebMD shows that diabetes can damage arteries and increase the chance of atherosclerosis. If not addressed on time, this can lead to high blood pressure, damaged blood vessels, heart attack, and kidney failure. 
The antidiabetic properties of CBGA may also come in handy in handling anxiety and depression, which is a major concern for cardiovascular diseases. 
Antioxidant properties may assist in cardiovascular diseases.
The cardiovascular system depends solely on the free-radical: antioxidant balance to remain functional. Once this balance is disrupted, the free radicals will be favored, thus leading to the accumulation of oxidative stress in the system. This can lead to atherosclerosis, hypertension, cardiovascular ischemia, heart failure, and hyperlipidemia. Research work on the possible antioxidant properties of cannabinoids shows that CBGA has the most potent antioxidant property when compared with other cannabinoid acids. Although not yet tested on the cardiovascular system, this activity can promote internal balance and reduce the possible exposure of cardiovascular tissues and organs to oxidative stress. When it comes to health, the internal balance of hormones, electrolytes, and molecules is important.
CBGA creates homeostasis so the body can more efficiently balance its inflammatory response. 
The antibacterial activity of CBGA may reduce exposure to methicillin-resistant Staphylococcus aureus (MRSA), which causes fatalities in cardiovascular patients. They may also play a key role in keeping the cardiovascular system from bacterial infestation.
Risk Factors and other Considerations
When it comes to using CBGA and other cannabinoids for cardiovascular health, it is important to note that getting the right dosage is very important. This is because cannabinoids may elicit different activity levels on the cardiovascular receptors and cells, depending on the dosage. As we await more research work on the possible therapeutic benefits of CBGA and other cannabinoid acids on cardiovascular health, we will continue to hope it comes out well.